Aust Ch Korskote Foreign Exchange (IID) - Ozzy
owned by Gary and Liz Lovell
Ozzy is an outstanding example of the breed with excellent conformation, head, coat and temperament. Ozzy has won many major awards in GWPs in Australia in 2017 and 2018.
Scruffy
Australian GRAND CHAMPION Korskote American Pie (Scruffy) - Owned by Jenny Catell.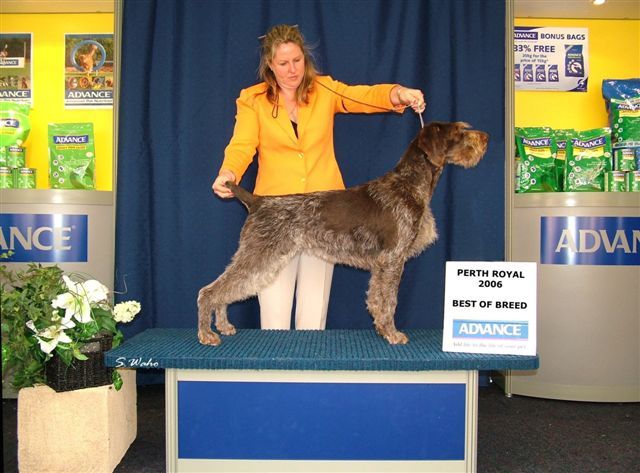 The first female GWP to win an all breeds best in show AND gain her grand championship, Scruffy is a real asset to the breed and Korskote Kennels. Scruffy has many huge wins including BEST IN SHOW, Res BEST IN SHOW to mention a few. 

Scruffy has correct conformation and moves like a dream, a spitting image of her mother Java who has passed on these great qualities.
Russell
NZ CH Korskote Xpress Klass (Sled dog Champion)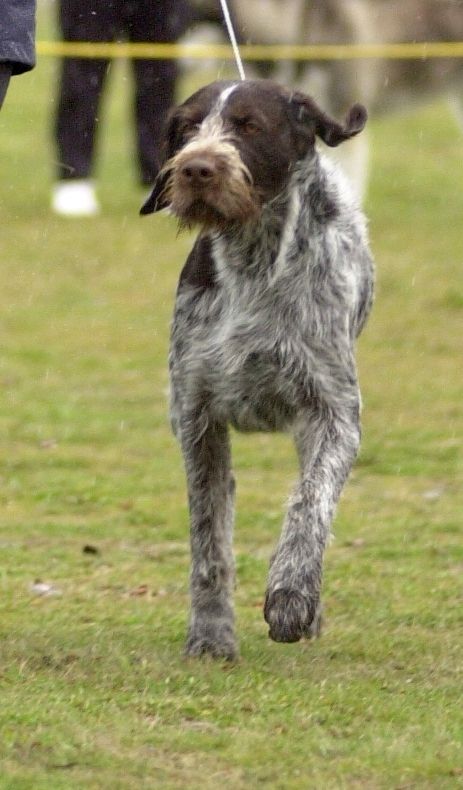 'Russell'

Russell exhibits GWPs true versatility. He is New Zealands first GWP to win BEST IN SHOW at championshp level and has won many Best of groups and class-in shows in every age class from Puppy to Open. 
Russell & his son Wyatt took out an Australiasian first winning Best of Group and Reserve of Group at one show.

As well as his great success in the show ring Russell has gained his sled dog championship, showing his true versitility as a working dog with great conformation. 

Sire of champions with more up and coming.

Owned by Rae Bank  (Hotwyr GWPs, NZ). Thanks to Rae for doing so much with Russ.
Liz
NZ Ch Korskote Witch N Famous (Imp Aust)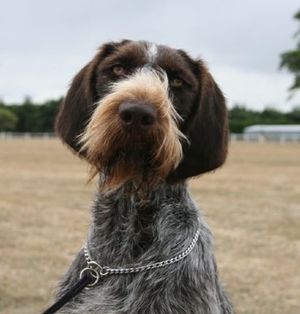 Owned by Rae Bank, Hotwyr GWPs, NZ. Liz, not yet 2 years old, is already the most successful and highly awarded GWP bitch in NZ history. Some of Liz's achievements include;
#1 GWP Puppy In NZ 2008 & 2009 (Dogzonline pointscore)
#1 Bitch In NZ
National BOB winner
Many Class in Show & Class in Group wins
Nike
Aust CH KORSKOTE JUST DO IT

'Nike'

Nike exhibits a true example of GWP's renouned hilarious temperament, always up for a game of ball or to lend a helping paw in the shed.

Nike has also done exceptionally well in the show ring including Group and In-Show placements and Royal show Best of Breed winner. 

Owned by Kylie Wright and Mandy Atkinson
And More
Ch Korskote American Idol (Forest) - Owned by Gary & Liz Lovell

Forest is a multi Best of Breed winner and a fine example of the breed. Forest has produced some wonderful puppies for work & show. Well done Gary & Liz

Dual Ch Korskote Xplosiv Encore (Jet) - Owned by Darren & Trish Stebbings.

Jet is a multi Class in group winner and now a dual champion, Korskote's second dual Ch. Jet obtained his Dual in tracking. Well done Darren & Trish.